HTC touts the One X battery life
18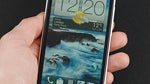 HTC outed a blog post in which it detailed the thousand of man hours that went into the battery life performance of its flagship
HTC One X
handset, partly to alleviate the concerns about it having a non-removable battery, we'd wager to guess.
They compared with last year's flagship
HTC Sensation
and the results are pretty astounding - 147% longer talk time, 103% more music playback, 39% more video playback, and 23% more web browsing time, all from a phone with a beautiful 4.7" HD screen.
Not bad, but HTC also has some independent reviewers' charts to back its claims up, like those from the Anandtech review below.
While individual daily usage patterns and battery life will vary, we've been working diligently to balance performance with design and functionality goals. For example, we held multiple focus groups with real-world users to find the right balance between battery and phone size. Our research was clear: you want your phone to last all day, but you also want your phone to be thin and light. So we set battery performance goals alongside design targets and relentlessly pursued creating gorgeous phones that work throughout a long day.
Of course, one of the first questions we usually get is about battery size, "why is the battery only 1800 milliamp hour (mAh)? Why not 2050, 2400 or even 3600-mAh?" Well, Moore's Law doesn't apply to batteries. Unlike a computer memory chip, where the size of the chip is constant and fits in the same slot regardless of how much memory it has, a higher mAh actually translates into a larger battery – which impacts the overall size and weight of the phone.
It's important to keep in mind that performance is not just a matter of increasing battery size, but rather a holistic approach to software and hardware management. For the HTC One series our engineering teams spent thousands of man hours on the Battery Stamina Boost Project – an effort that impacts battery life by improving standby time, extending talk time, increasing audio and video entertainment time and increasing web browsing and social network time.
Looks like HTC has definitely put a lot of thought behind the battery life in the One X, so we can't wait to compare it with the other upcoming beast today - the
Samsung Galaxy S3
- which should have some battery optimizations of its own, too.