HTC One X for AT&T Review
66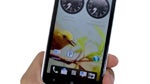 Introduction:
AT&T is literally on fire! And why's that you ask? Well, in the last few months alone, we've been seeing the carrier getting in with some big name smartphones such as the Samsung Galaxy Note LTE, Nokia Lumia 900, and HTC Titan II. Needless to say, it's arguable as to which one is deemed as the best of the bunch, but AT&T isn't letting down one bit whatsoever with its selection – that's because the mightiest one is about to set things ablaze with its piercing set of features.
Arriving on May 6th for the 2-year contract price of $199.99, the modified
HTC One X for AT&T
is already shaping out to give its closest Android competitor in the Samsung Galaxy Note LTE a good run for its money. Concurrently, it's also going to give AT&T's newly minted Windows Phone something to worry about as well, as it's filled to the roof with specs that seem to be vastly superior. Certainly, T-Mobile customers are getting their fill with the HTC One S, but with AT&T's upcoming beauty, it brings forth HTC's mightiest offering to our shores, so let's find out if this LTE enabled smartphone can raise the standards for everyone else.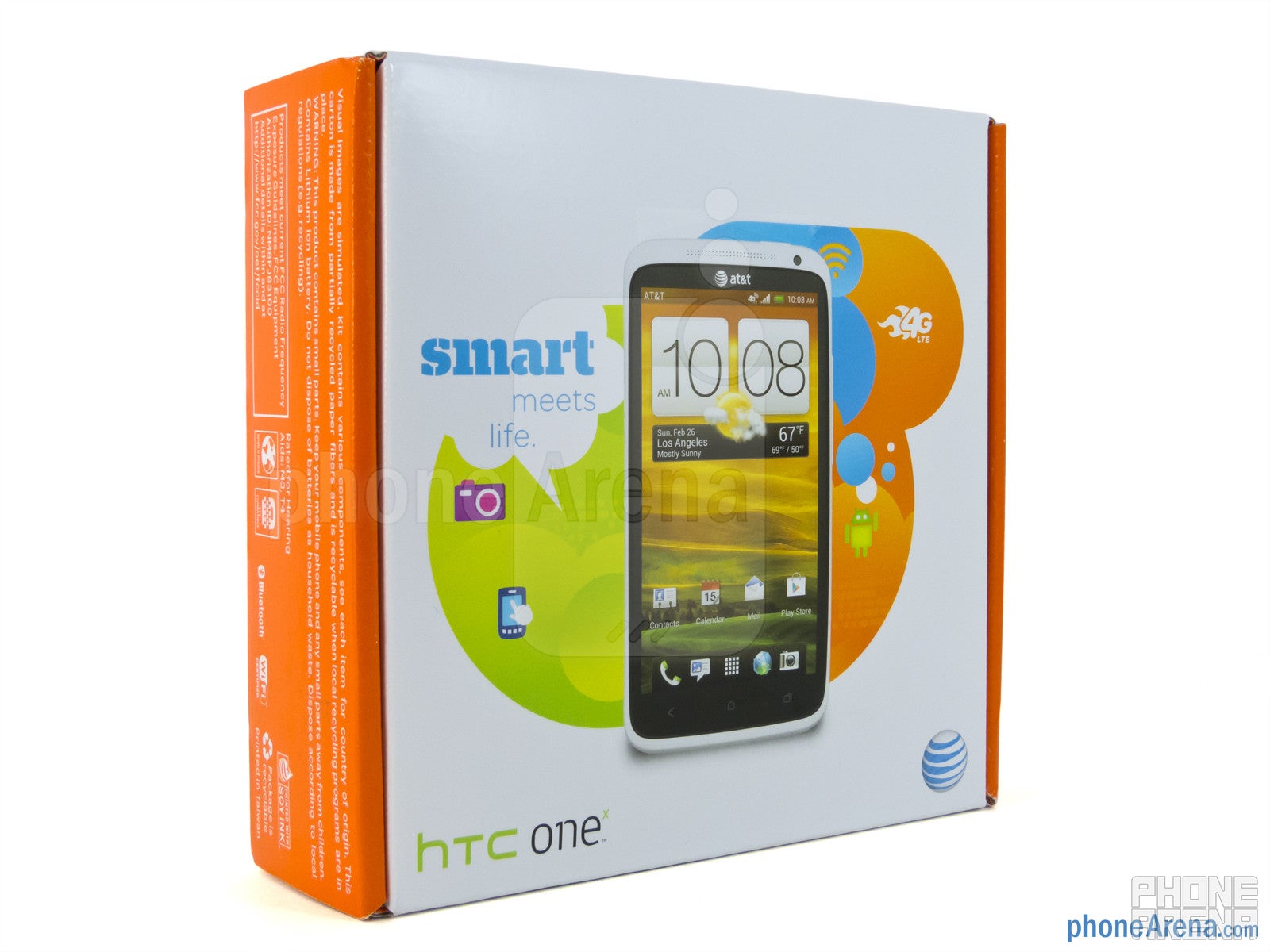 The package contains:
microUSB cable
Wall Charger
Quick Start Guide
Product and Safety Information
Design:
Honestly, there's barely any noticeable differences with the design of AT&T's version of the HTC One X – albeit, it's a hairline longer (5.31 inches versus 5.29 inches) and lighter (129 grams versus 130 grams) than the international version we reviewed not too long ago. Additionally, rather than finding the manufacturer's name beneath the earpiece, it's bearing AT&T's logo and name instead. Aside from those items, the two smartphones are nearly identical to one another!
Again, we have to give props to the folks over at HTC for concocting a magnificent smartphone that combines a stunning design and something that's comfortable to handle. Utilizing the same pristine white polycarbonate body as before, which does wonders in keeping it clean looking and dirt free, it also adds enough durability to withstand the normal wear and tear we tend to put it through. Certainly, it's still a larger than other handsets, but it's nice that they've carefully made good use of every nook and cranny without adding too much excess bulk. If that's not enough, the sides of the handset and display are contoured perfectly to result in a comfortable feel in the hand. Indeed, it might not be perceived as the most premium constructed device we've seen from HTC, but nevertheless, it simply feels incredibly solid and fine to the touch.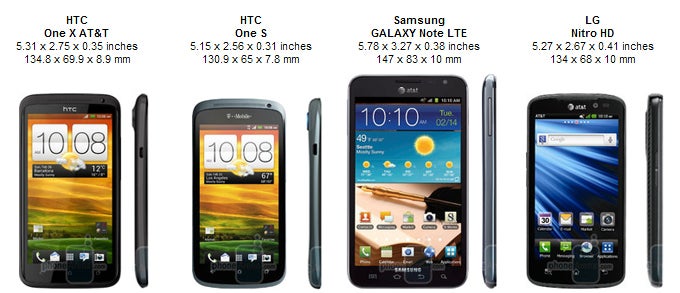 You can compare the HTC One X with many other phones using our
Size Visualization Tool
.
HTC has decided to stick with
capacitive keys
under the display, rather than on-screen ones. On one hand, this leaves more space to display the interface at any time, but on the other, accidental presses are more likely. Above the screen is where you'll see the 1.3MP front-facing camera.
Like before, the microUSB port stands apart from most things on the
left edge
of the handset, since it doesn't quite blend in with the all-white and uniform body of the handset.
On the right
is the volume rocker. It reacts OK when pressed, though the volume down key could have used a bit more travel. On the top of the HTC One X sits the power/lock key, which is placed at a weird angle that doesn't allow for a natural feel with our finger – and to top it off, it feels a bit stiff to the touch. Right behind that is microSIM tray, which is ejected in the same way that you eject the iPhone's microSIM tray – with a special tool, or, if you are a professional, with a clip. Finally, the primary microphone is the only thing we find on the bottom edge.
In the rear
, the handset's 8-megapixel ImageSense camera is the only noticeable protrusion on the body, but as we take a closer look, the lens is actually sunken in so that it doesn't come in contact with surfaces when it's resting on its back. Meanwhile, surrounding the camera is the same contrasting gray color with the LED flash nearby, which some might find distracting. Towards the bottom edge, microdots converge in a unison assembly to make out the smartphone's speaker grill, while dock connectors are positioned towards the lower right side.
Display:
The gigantic 4.7" display of the HTC One X is very good-looking. Not only is it big enough to let you fully enjoy your videos, but it also has this great resolution of 720x1280 pixels. This means the pixel density comes in at 312 ppi, making it very hard to spot an individual pixel. The screen uses the so-called Super-LCD 2 (it uses IPS) technology, which is said to bring better viewing angles and less glare, compared to traditional S-LCD panels. We did find the viewing angles to be pretty good with this device, although the glare was about equal to what you get on other premium smartphones. The screen also treats us to some very saturated colors. Actually, it's much closer to AMOLED, rather than LCD displays in this respect, which isn't a bad thing. In some situations, its colors might seem a bit too saturated, but in most of the cases, the visuals that it produces are extremely pleasant. For those who still care, the pixels of the display are arranged in a standard RGB matrix, so no PenTile here.
Recommended Stories