HTC to be the first partner for Sony's rebranded PlayStation Mobile
23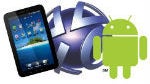 Sony has been working for quite a while now to bring its PlayStation brand to mobile devices. The work began last year, when the
company announced
the PlayStation Suite, which would be a program to bring PS games to Sony Android devices, and eventually
allow third party manufacturers
to bring PlayStation gaming to non-Sony devices. Sony has obviously already brought PlayStation games to various mobile devices including the Xperia Play, and the Sony tablets.
Just now, during Sony's keynote at the E3 gaming expo, Sony announced that the PlayStation Suite would be rebranded as PlayStation Mobile, though it will still offer the same options for manufacturers to license the PlayStation branding on Android devices. And, even more interesting, Sony unveiled its first partner for PlayStation Mobile: HTC. This actually fits well with rumors that we had heard about
HTC putting out PlayStation
-certified devices in the second half of this year.
No specific devices were mentioned with the announcement, but this is a pretty big move for Sony. HTC is a very visible manufacturer, and has quality devices that should do well with the PlayStation branding. It should be pretty nice to see some PlayStation games on the new HTC One handsets, but unfortunately HTC has yet to put out a breakthrough tablet that could really take advantage of the software. The Flyer is nice, but it didn't really sell all that well, and Sony wants to push the PlayStation brand in the mobile space.
Recommended Stories