HTC introduces new Sense UI, as well as the Desire HD and Desire Z Android handsets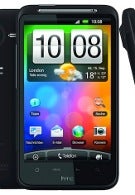 If you're interested in seeing how the event itself went off, head
this way
.
On its London-based press event today HTC showed that it has the hearts of the poor Europeans in mind, and offered them versions of the US-only
EVO 4G
and
T-Mobile G2
. Issued under the names of HTC Desire HD and HTC Desire Z, as
rumored previously
, both handsets are mimicking their original counterparts.
The HTC Desire HD comes with a 4.3" LCD screen, 8MP camera with dual-LED flash, and new 1GHz Qualcomm 8255 Snapdragon chipset inside. The music aficionados will appreciate Dolby Mobile plus SRS, and there is 720p HD video recording for the shutterbugs.
In other words, an aluminum unibody EVO 4G for Europe and Asia sans the kickstand, and with a slot-loading battery compartment. Very good news is that the HTC Desire HD carries an HSPA+ chip inside, which will allow for blazing data download speeds on compatible networks in these areas.
The Desire Z, in its turn, is the QWERTY-laden Android beast we all know and love. It sports the new Qualcomm Snapdragon MSM7230 chipset with the fast Adreno 205 graphics chip. At 800MHz, its performance is similar to the original 1GHz Snapdragon, while besting it quite a bit in the graphics department.
The HTC Desire Z has a 3.7" display, 5MP camera with flash, and can also capture HD video. Similar to its US-only brethren, the T-Mobile G2, the handset is able to take advantage of HSPA+ networks, where available. Great!
The real surprise, though, came from the software side. Both handsets feature an updated version of HTC's renowned Sense user interface. The company introduced HTCSense.com, which is integrated services for backup, security, and control of your HTC handset. Remote lock&wipe security features, as well as automatic backups of your sensitive data now come standard with HTC's Sense UI. You can make your phone ring and locate its whereabouts on a map from the website, even if it is set to silent mode. HTCSense.com will be active next month for the handsets' launch.
New functionalities in Sense UI allow for integrated capturing, editing and sharing of multimedia content. A variety of camera effects can be applied on-the-fly, while capturing an image or video. HTC Locations is presented as instant "on-demand mapping" that doesn't wait for the data download and is not slamming you with roaming charges. We are really curious about this one.
Another very useful Sense UI addition, given the giant 4.3" screen on the Desire HD, is the bookstore powered by Kobo, and a new e-reader application that allows you to highlight, search and quickly translate words and phrases.
Both handsets are slated for an October launch.
Are you excited these amazing handsets are finally within your reach? We will soon have a hands-on treatment and video preview of the two puppies. Stay tuned!
HTC Desire HD Specifications
|
Hands-on
HTC Desire Z specifications
|
Hands-on
source: HTC