HTC could be planning price cuts across the board, including lower entry tags for upcoming handsets
20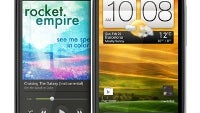 What do you do when your current crop of products is meeting too strong of headwinds due to heavy competition or overzealous pricing? What, you change that pricetag, of course, and move on to the next lineup.
That's precisely what HTC is expected to do, if Chinese sources are to be believed. The Taiwanese are reportedly planning price cuts across the Android board, but are also venturing to release their Windows Phone 8 handset(s) at more affordable levels than usual.
HTC handsets have always commanded a price premium, and they've been indeed positioning their design in that niche, but recently the unsurmountable competitive pressure from Samsung and Apple, as well as a few arguable decisions around the One series, like sealed battery, microSIMs, and lack of expandable memory slots, have led to sales declines. Let's see if those industry sources are right, and we see lower entry points for HTC phones from now on, we don't mind at all.
Recommended Stories