HTC and IBM partner to win the enterprise user
1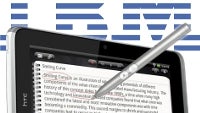 During the kickoff session for their annual Lotusphere event last week, IBM execs demonstrated a variety of their business applications, running on HTC smartphones and tablets.
This is as close to a partnership with HTC as it can get, and the Taiwanese seem pretty excited about it. David Jaeger, executive director Global Enterprise and Services at HTC, who bears most of the responsibility for this pivotal partnership with IBM, said:
"
It's only been really relatively recently that HTC has broken into the enterprise space. We're driving toward that magic 100-million device number globally. We see IBM as the gold standard for an enterprise partnership. We want to make sure if IBM is talking about Android or tablets, HTC is in the conversation."


HTC has worked in sync with IBM to ensure its gear can run Big Blue's award-winning enterprise software, and run it well, with a particular focus on that all-important enterprise feature - security. HTC is also leveraging its unique tablet proposition - the Scribe pen technology - for the enterprise market, and currently has 35 applications that can take good advantage of it, some of it with the corporate world in mind, and
more are on the way from third party developers
.
"
There's a certain amount of precision with what you can do with the pen,
" says Will Ro, director of Global Enterprise Operations and Strategy at HTC, "
Our stylus is an active stylus
."
source:
eWeek