HTC to allow third party developers to use its "Scribe" technology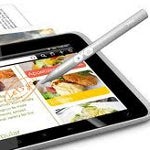 When HTC introduced its Flyer tablet, it included a technology called "Scribe" which powers a pen-like device used to draw, color and write on the tablet's screen. In a interview on Read, Write and Web sponsored by Sprint, HTC spokesman Keith Nowak explained the difference between a stylus and a pen. "A stylus is just a dead stick," said Nowak, and is used for navigation. A pen is used to write or draw. In other words, using the "Scribe" technology allows one to create using a pen rather than simply navigating with a stylus.
With third part developers having access to the "Scribe", it should make for some interesting game-play. Can you think of any video games that use a pen that you would like to see on your tablet?
source:
ReadWriteWeb