HTC U Play vs Honor 8 vs Samsung Galaxy A5: specs comparison
7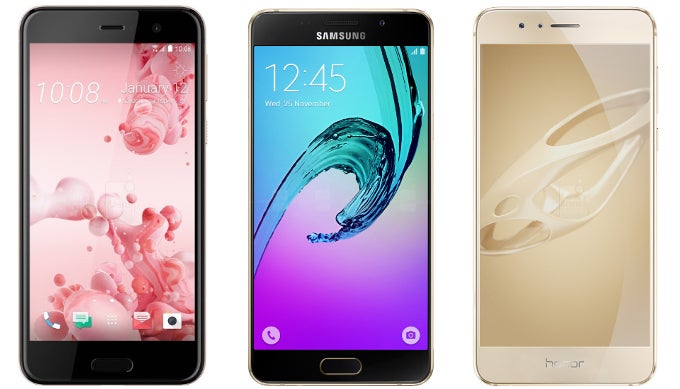 So, the U for U teaser was all about two new smartphones by HTC — the flagship-grade
U Ultra
and the midrange
U Play
. Now, while the "big brother" here looks awesome and has a high-powered hardware to keep it competitive among other top-shelf devices, we're a bit curious if the U Play will have enough going for it to make an impact.
See the U Play is powered by a Mediatek Helio P10 SoC — the lowest of the Helio series — and its 2,500 mAh battery doesn't inspire confidence either. Still, it's expected to cost around $400 at launch, probably because that shiny liquid-like finish makes it look like the price is justified.
So, let's compare internals — let's pit the HTC U Play against similar midrangers like the
Samsung Galaxy A5 (2016)
and
Honor 8
. Both of these cost around the $400 mark and have metal-and-glass builds. The Honor 8 even has that fancy dual camera!
Scratch-resistant glass, Ambient light sensor, Proximity sensor
Scratch-resistant glass, Ambient light sensor, Proximity sensor
Scratch-resistant glass, Ambient light sensor, Proximity sensor
Qualcomm Snapdragon 615 8939 (28 nm)
HiSilicon Kirin 950 (16 nm)
MediaTek Helio P10 MT6755
Octa-core, 1600 MHz, ARM Cortex-A53, 64-bit
Octa-core, 2300 MHz, ARM Cortex-A72 and ARM Cortex-A53, 64-bit
Octa-core, 2000 MHz, ARM Cortex-A53, 64-bit
Adreno 405
Mali-T880 MP4
Mali-T860 MP2
Android (5.1 Lollipop)
Android (8.0 Oreo, 7.0 Nougat, 6.0 Marshmallow), Huawei Emotion UI
Android (7.0 Nougat), HTC Sense UI
Fast charging
Fast charging
Fast charging
28.00 hours
the

average

is 3 h (180 min)
15.0 days (360 hours)
the

average

is 3 days (72 h)
16.00 hours
the

average

is 0 h (0 min)
15.00 hours
the

average

is 0 h (0 min)
15.21 hours
the

average

is 0 h (0 min)
17.8 days (428 hours)
the

average

is 0 days (0 h)
17.8 days (428 hours)
the

average

is 0 days (0 h)
Single camera
Dual camera
Single camera
13 MP (OIS, Autofocus, CMOS image sensor)
12 MP (Laser and PDAF, CMOS image sensor, BSI sensor)
16 MP (OIS, PDAF, BSI sensor)
Aperture size: F1.9; Focal length: 28 mm
Aperture size: F2.2; Focal length: 35 mm; Sensor size: 1/2.9"; Pixel size: 1.25 μm
Aperture size: F2.0; Focal length: 28 mm; Pixel size: 1 μm
12 MP (Black and White, Laser and PDAF)
Aperture size: F2.2; Focal Length: 35 mm; Sensor size: 1/2.9"; Pixel size: 1.25 μm
1920x1080 (Full HD) (30 fps)
1920x1080 (Full HD) (60 fps), 1280x720 (HD) (120 fps)
1920x1080 (Full HD) (30 fps)
Video calling
Time-lapse video, Video calling, Video sharing
Hyperlapse, Picture-taking during video recording, Video calling, Video sharing
5 MP
8 MP
16 MP
1920x1080 (Full HD) (30 fps)
5.70 x 2.80 x 0.29 inches (144.8 x 71 x 7.3 mm)
5.73 x 2.80 x 0.29 inches (145.5 x 71 x 7.45 mm)
5.75 x 2.87 x 0.31 inches (145.99 x 72.9 x 7.99 mm)
5.47 oz (155.0 g)
the

average

is 5.9 oz (168 g)
5.40 oz (153.0 g)
the

average

is 5.9 oz (168 g)
5.11 oz (145.0 g)
the

average

is 5.9 oz (168 g)
Back: Glass; Frame: Metal
Back: Glass; Frame: Aluminum
Fingerprint (touch)
Fingerprint (touch)
Fingerprint (touch)
Touch sensitive control keys
Recommended Stories