Samsung Galaxy A5 (2016) Review
48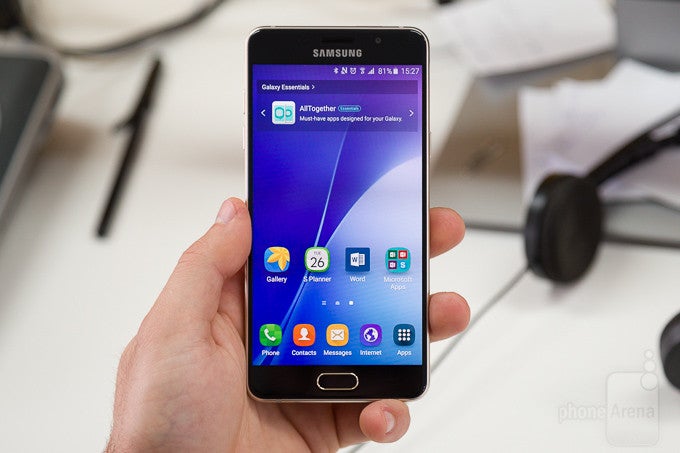 Update

: You can now read our Galaxy A5 (2017) review!
Introduction
Upper mid-range smartphones are exciting. Traditionally, sub-flagship smartphones haven't been getting as much love as they deserve; there haven't been that many 'hero' devices to come out from the more affordable ranks. Last year, we saw a good deal of spec-heavy handsets that were built to attack the more affordable segments of the market. Most of the time, though, those products were exactly that: heavy on specs, but light on character – with generic features and boring aesthetics.
Samsung might be looking to change that in 2016. The company is releasing three mid-range devices that should, theoretically, address the aforementioned issues we've had with the category of late. The popular Galaxy A series is getting updated with the
A3
, A5, and
A7 (2016)
, but if you're neither willing to compromise much with the specs, nor having the hands of a high-profile basketball player, chances are the new
Galaxy A5
will be what's on your mind. It costs around $400 and is not expected to be sold officially in the US, but will be available pretty much everywhere else in the world. And then there's always third-party retails to import it in the US, so if there's a will, there's a way.
But has Samsung managed to produce the first true mid-range hero device of the century? Let's have a look!
In the box, you'll find:
Samsung Galaxy A5 (2016)
Fast charger (9V – 1.67A / 5V – 2A)
microUSB cable
Earphones (GH59-11720J)
SIM ejector tool
User manual
Design
Exquisite, ambitious design with stylish colors – almost perfect
Last year's Galaxy A5 was impressively thin, but it lacked the sophistication of Samsung's higher-tier handsets. This year, though, things are much different. The Galaxy A5 (2016) sacrifices some of the lightness of its predecessor for a more substantial, ambitious feel. The looks and proportions of the new A5 are near perfect – it's very stylish and well put together, not to mention that the black on gold / rose gold color options look striking and different from what we've been treated to so far.
Even though this isn't a top-level phone, it has one of the most exquisite designs you can find in a phone these days. The finely polished glass surfaces are non-slippery in the hand, yet don't get too messy; the metal frame is thoughtfully shaped, so it doesn't create any discomfort for the user; and the physical keys have the perfect amount of click response. While the phone won't slide out of your hand easily, however, it does slide over most other surfaces (that are not skin or leather), so you should still be careful with how and where you place it.
In an increasingly larger and deeper ocean of generic-looking plastic and metal products, Samsung's Galaxy A5 (2016) stands out as familiar, yet distinctive model. It's both aesthetically pleasing and convenient to work with.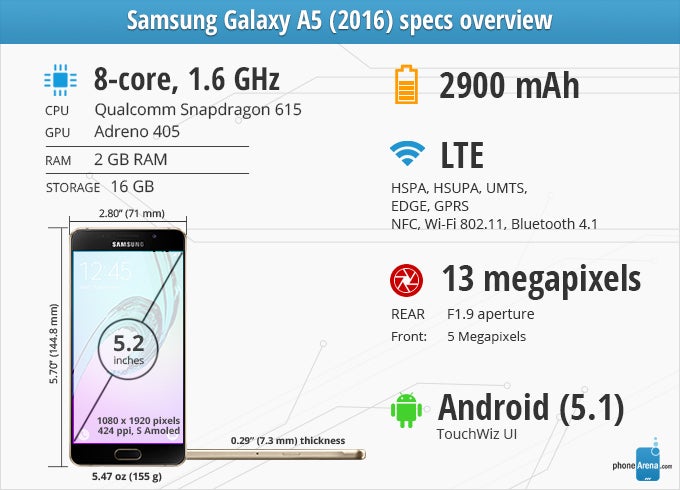 Display
Not the best display around, but definitely in the upper echelon
A sizable 5.2" AMOLED touchscreen graces the front of the Galaxy A5 (2016). Even before we powered it up, we already knew what to expect – the default Adaptive screen mode with extra-punchy colors, our inevitable desire to switch to Basic mode in order to make things look more natural, the deep blacks, the volatile viewing angles, and everything else.
The A5's display didn't surprise us in any way – it exhibits the exact same characteristics as those of other current Samsung models. Its 1080 x 1920 px resolution is more than enough to produce a fine, pleasantly clear image, but the screen does come off as slightly washed out. Worse is the color balance, which, even on Basic screen mode, exhibits an unpleasantly strong green. It's nothing you can't get used to, but we'd like to see Samsung get rid of this problem right away.
Leaving that aside, the flexibility of this screen brightness-wise is applaudable – outdoors, it can get bright enough to let you view it comfortably, while in the dark, brightness can get extremely low, so as not to hurt your eyes.
Display measurements and quality