HTC T6 phablet may come in dual-SIM, LTE-Advanced flavors
12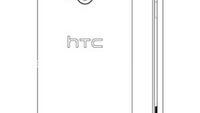 The HTC T6, as it is being referred to on the intewebs, is supposed to be a high-end Android smartphone with a massive display – a phablet, if you will. If rumors are to be trusted, it will come with a 1080p screen of about 6 inches, a Snapdragon 800 SoC paired with 2GB of RAM, an Ultrapixel camera, 3300mAh battery, and all of that will be Key Lime Pie flavored. Sounds good doesn't it? Well, here's where it gets even better.
It has been brought to our attention that the HTC T6 may have a dual-SIM variant as well, presumably targeted at select markets throughout Asia. As a side note, the
HTC One
model sold in China is indeed a dual-SIM device, which adds credibility to this rumor. What's more is that HTC may be working on an LTE-Advanced version of the T6 phablet. Supposedly, that model would be meant for South Korean users, who are already enjoying this new, super-fast wireless service.
The HTC T6, or whatever its real name turns out to be, is said to be scheduled to launch before 2013's end, but with Android 5.0 Key Lime Pie still nowhere in sight, chances are the device's debut isn't near.