HTC One mini goes official, 720p screen and UltraPixel camera in tow
40
Finally, this ain't a rumor, guys! The real deal has been unveiled at last. Meet the
HTC One mini
– a physically smaller version of the
HTC One
, aiming to pack as much cool as its larger sibling, but in a more compact, pocket-friendly package.
So our guess is that you're wondering how small the new smartphone really is. And it is nice that we now have the exact figures. To start,
the HTC One mini comes with a 4.3-inch, 720x1280 pixel display
vs the One's 4.7-inch 1080p screen. At 122 grams, the new model is also lighter, all the while being made of machine-milled metal, following in the One's footsteps. The mini isn't much slimmer than the HTC One, however, with a thickness of 9.25 millimeters at its thickest point. Thankfully, the HTC One mini's tapered sides should at least make it feel much slimmer than it is.
The HTC One mini has its processing punch delivered by a
dual-core Snapdragon 400 SoC
with a processor clocked at 1.4GHz. Of course, that's not as potent of a chip as the Snapdragon 600 fitted inside the HTC One, but we doubt that the smartphone's performance would disappoint. 1GB of RAM is on board, which is still okay for a mid-range device, although another gig would have been more than welcome.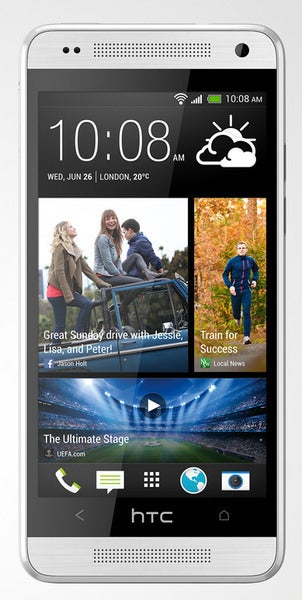 HTC One mini
HTC has chosen to put an
UltraPixel camera
with a 1/3" sensor size on the One mini, whether we like it or not. Our guess is that the snapper's performance would be close to that of the HTC One's camera, although there's one notable feature that has been omitted in the mini's case. In particular, the HTC One mini does not have optical image stabilization. What the UltraPixel camera does have in its feature set, on the other hand, is 1080p HDR and slow motion video recording. On the front side of the device is embedded a 1.6MP front-facing cam.
And speaking of its front, the HTC One mini has adopted the One's frontal stereo speakers. Moreover, each of them has its own dedicated amplifier, delivering rich, clear, distortion-free audio. Naturally, Beats Audio is on board with its clever audio enhancement tech.
If having a microSD card is a must for your needs, then you might want to look away now. While
the HTC One mini does have 16GB of on-board storage
, which is still alright, there is no way of expanding it with a microSD card. The built-in, non-removable battery has an okay, if not rather small-ish capacity of 1800mAh.
As for the software part of the equation, the HTC One mini will come running Android 4.2, which is the newest version available to date. The interface will be heavily modified, of course, by layering the HTC Sense UI on top of it, presented in its latest form. HTC BlinkFeed will also be on board, instantly providing the user with relevant information from social networks and across the internet.
The HTC One mini is projected to launch in select markets in August and we sure hope it won't face any delays as the One did. Then in September, the smartphone should become available globally. At this time, only two color variants of it have been announced, named Glacial Silver and Stealth Black. Pricing has yet to be specified.
source: HTC
THE HTC ONE® GOES COMPACT WITH THE LAUNCH OF THE HTC ONE MINI
HTC's ultimate 4.3" smartphone complete with HTC BlinkFeed™, HTC UltraPixel Camera™ and HTC BoomSound™
London, July 18, 2013 — HTC, a global leader in mobile innovation and design, today announced the HTC One mini, a compact version of the award winning HTC One, which has redefined the smartphone experience with revolutionary technologies including HTC BlinkFeed™, HTC UltraPixel Camera™ and HTC BoomSound™.
Available in 181 countries and across more than 583 networks worldwide, the HTC One has proven to be an unprecedented success across the globe, receiving multiple industry accolades since launch and increasing the company's brand awareness with young consumers to an all-time high of 87%. The number of consumers intending to own an HTC in the next six months has also doubled as a result with the HTC One being recommended by 94% of owners.
Answering the call of consumers who want the best in mobile technology in a body that slips easily into a pocket, the HTC One mini heralds an exciting period for the company, as it builds on its platform of innovation leader. Distilling the iconic design of the HTC One, this new addition to the family combines a 4.3" display and powerful dual-core 1.4 GHz processor. It also runs the latest version of Android with HTC Sense®, bringing HTC's flagship mobile experience to style-seekers who demand premium looks and performance.
"We are proud to be behind the market's leading smartphone and now, with the addition of the HTC One mini, the best smartphone family in the world." said Peter Chou, CEO of HTC Corporation. "The HTC One mini embodies everything that makes the HTC One a success on a smaller but equally eye-catching scale."
An object of desire
Sporting a sharp and vivid 4.3" High Definition 720p screen, the HTC One mini boasts HTC's unrivalled design credentials. Available in Glacial Silver and Stealth Black, its striking aluminium unibody, slim profile and tapered edges both look incredible and feel great in the hand.
HTC BoomSound: mobile sound changed forever
The HTC One revolutionised the smartphone audio experience with HTC BoomSound's dual frontal stereo speakers. Powered by dedicated amplifiers to deliver less distortion and finer detail, the HTC One mini offers the same huge sound, delivering the raw power that will put you and your friends at the heart of the action, whether listening to music, watching videos or playing games. Beats Audio™ integration takes immersive audio to the next level, guaranteeing the best listening experience available on a mobile phone.
HTC BlinkFeed: Your favourite content all on one screen
The HTC One mini puts your favourite content at the centre of your mobile world. Transforming the home screen into a single live stream of relevant information, HTC BlinkFeed delivers social updates, news updates and photos directly to the place you need them most. Aggregating the freshest content, with more than 10,000 feeds served up daily from the most relevant and interesting sources, all the information you need is available at a glance, without the need to jump between multiple applications and websites.
HTC UltraPixel Camera with HTC Zoe and Video Highlights
Never miss a moment with HTC's revolutionary camera experience powered by the stunning UltraPixel Camera and featuring HTC Zoe. Capturing 300 per cent more light than traditional smartphone camera sensors, HTC's UltraPixel camera captures photos in incredible detail and enhanced dynamic range, even in low light. HTC Zoe also brings special moments to life in three-second videos, enabling a range of advanced editing capabilities and creative flexibility.
With the ability to take awe-inspiring images and amazing self-portraits on the 1.6MP front-facing camera, you won't want to keep them to yourself. Watch your photos come to life in a living, breathing gallery and share special events with visually stunning 30-second shows, created automatically by Video Highlights – no professional editing software or skill required. Simply select your own soundtrack from one of the pre-loaded themes or from your personal music library, before sharing your videos online for everyone to enjoy.
Global Availability
The HTC One mini will be available in select markets from August and rolled out globally from September.
About HTC
Founded in 1997, HTC Corp. (HTC) is the creator of many award-winning mobile devices and industry firsts. By putting people at the center of everything it does, HTC pushes the boundaries of design and technology to create innovative and personal experiences for consumers around the globe. HTC's portfolio includes smartphones and tablets powered by the HTC Sense® user experience. HTC is listed on the Taiwan Stock
Exchange (TWSE: 2498). For more information, please visit www.htc.com. For more information on HTC BlinkFeed's content partners, visit the HTC Blog.