HTC One experiment brings skydiving model and student photographer for a photoshoot in the sky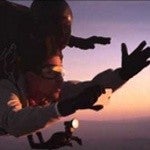 The
HTC One series
is all about reinventing HTC from the ground up - with less devices, but more focus on the design and features of existing ones and... a better camera, of course. HTC introduced its ImageSense technology in the One series, and it brings some noticeable improvements in both speed and low-light photography.
And to prove that HTC went up 12,000 feet in the sky! The company asked its fan and photography student Nick Jojola to take pictures of model and champion skydiver
Roberta Mancino
. With a crew of 9 skydivers making the shoot possible with lighting in the sky, make up in the sky and smoke machines, and just 0.8 seconds in each jump to take photos, this definitely took the One X camera to its limits. Some of the pictures were taken in free fall, at a speed of around 126mph.
Here's what HTC wanted to emphasize: it's gotten its
smartphone cameras
to the next level. First of all, the company has added the possibility to take still pictures while shooting video. It takes only 0.7 seconds to boot the camera and 0.2 seconds to lock the focus and take the picture. Also, the back-illuminated sensor and f/2.0 aperture all contribute to great low-light shooting performance.
You can see how it all happened in a morning in the Arizona sky, and some pictures and video from the shoot are all below. Have you bought the HTC One X or any of the new HTC One handsets? How do you like the camera? Let us know in the comments below.
source: HTC