HTC One (M8) vs Sony Xperia Z2 screen comparison video
50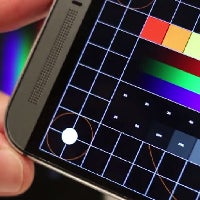 We already
gave you the scientific proof
that the
HTC One (M8)
has a vibrant screen that is somewhat too generous when spilling above and beyond the standard RGB color gamut. The 5-inch 1080p display is thus exhibiting colors that are oversaturated, albeit not to the extent that we associate with Samsung's Super AMOLED displays, for instance.
Still, oversaturation means appealing colors that "pop" when you look at the screen, but might be a turn-off for screen purists, or if you are using a feature that requires more credible colors, like shopping for clothes online.
The screen on the HTC One (M8) gets compared to the 5.2-inch display of the
Xperia Z2
in the video below, and you can indeed spot the oversaturation clearly. Bear in mind that the Xperia Z2 carries a
Triluminos
display that also boosts the color gamut coverage, so the trend this season seems to be towards vivid, rather than more natural color representation. Screen purists could be scoffing at that fact, but a healthy dose of flashy colors has proven its appeal with the average user multiple times, unless the hues start to hit the gaudy mark.