See how Sony Xperia Z Ultra's Triluminos display stacks up against the one on the Sony Xperia Z
52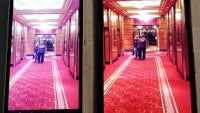 Slim chances of this one, but if youhaven't checked it out already, you shouldn't waste any more time andgo check ourSony Xperia Z Ultra review. Certainly not without weaknesses, weare nevertheless impressed with Sony's foray into the phablet market.And while the Z Ultra's massive diagonal has become a recurringtopic, thequality of the display is just as great and a topic of its own.
Best described as two thirds a tabletwith just a third carrying the phone DNA, the Xperia Z Ultra'sdisplay has been largely improved in comparison with the panels inolder Xperia smartphones. And though the advancement is noticeableeven with a naked, untrained eye for the most part, some may befinding themselves scratching their heads, wondering exactly what haschanged. Well, first and foremost, Sony's previously TV-exclusiveTriluminos tech has made its way into the Z Ultra, allowing for awider palette of colors for the software to pick from. This has beenachieved through the use of the so called "quantum dots", a setof super small nano particles that emit light at a preset wavelength,depending on which the human eye then perceives a given color. What'smore, the so called OptiContrast technology that is present with theZ Ultra lets more backlight go through to the LCD TFT panel,resulting in higher brightness and contrast levels, along with theextra perk of better visibility outdoors.
But great hardware is only a part ofthe equation, and to that end, Sony's BRAVIA Engine 2 for mobile isworking hard to improve certain aspects of local media content, such ascontrast, saturation, noise reduction and sharpness. At this point,you're probably wondering what happened with the X-Reality engine(the successor to the mobile Bravia Engine 2), anotherprevious TV-exclusive, so here are the bad news first: it's nowhereto be found – not on any version of the Z Ultra right now. The goodnews? An update is expected in the week commencing September 9that will both add support for the new engine and a reworked UI.
That's about enough techno lingo,though. So head for the slideshow right below and witness foryourself the undeniable improvements Sony has packed into the Z Ultrathrough a visual comparison with the now older Sony Xperia Z.
source: Xperia Guide