HTC One (M8) for Windows to be available at T-Mobile tomorrow
1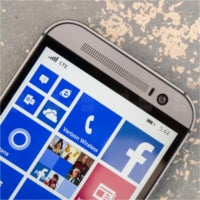 Earlier this month
, we saw the
HTC One (M8) for Windows
make an appearance in T-Mobile's online store. Unfortunately, it turned out that the handset was "coming soon" and not available for direct purchase.
Today, we can say that there are less than 24 hours left until HTC / Windows / T-Mobile fans will be able to grab the WP-toting flagship from the Magenta carrier, as T-Mobile took to Twitter and confirmed it themselves, just a while ago.
The HTC One (M8) for Windows
launched
back in August as a Verizon exclusive device. It only became available through another carrier –
that being AT&T
– this month, on the 7th, while a leaked T-Mobile document claimed that the handset will be in Magenta's stores on November 9th. Something must've put a stop to that plan, though, as, while the phone did appear in T-Mo's online store, it was not really available for purchase yet. Back then, its price was listed at $585.60 (or $24.40 per month for two years), so it's safe to assume that, once the phone lands in the carrier's shop tomorrow, this will be its going price.
Have you been waiting for an HTC One (M8) for Windows?