HTC One A9 vs Motorola Moto G (2015) vs Google Nexus 5X: specs comparison
4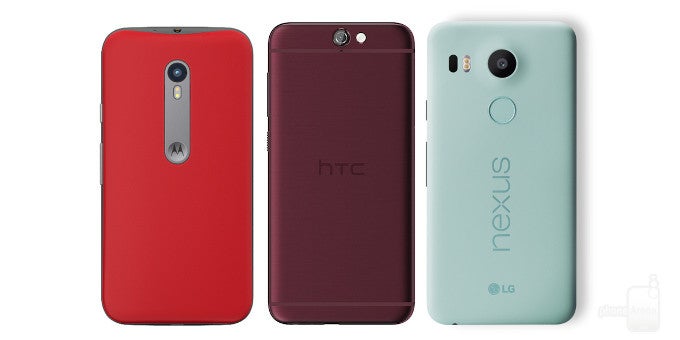 The HTC One A9 is a decent mid-range device that just got official during the Taiwanese company's recent live event. Touted as being a stunning, no-compromise smartphone, the One A9 enters a market that is quite saturated, and this goes without saying.
While the top-tier end of said market usually gets more attention, the mid-range one is quite interesting on its own. One of the more recent entrants on the scene is the third generation of the Motorola Moto G, the heir of one of the best-selling devices of 2013. It supports the nifty Moto Maker, and brings improvements in speed and cameras.
Additionally, Google unveiled the Nexus 5X a couple of weeks ago, which is a revamped and improved variation of 2013's Nexus 5, with LG behind the reins once again. While it's not out just yet, the Nexus 5X will most likely bask in popularity among the hordes of stock Android lovers.
Scratch-resistant glass, Ambient light sensor, Proximity sensor
Oleophobic coating, Scratch-resistant glass, Ambient light sensor, Proximity sensor
Scratch-resistant glass, Ambient light sensor, Proximity sensor
Qualcomm Snapdragon 410 8916
Qualcomm Snapdragon 808 MSM8992
Qualcomm Snapdragon 617 8952
Quad-core, 1400 MHz, ARM Cortex-A53, 64-bit
Hexa-core, 1800 MHz, ARM Cortex-A57 and ARM Cortex-A53, 64-bit
Octa-core, 1500 MHz, ARM Cortex-A53, 64-bit
Adreno 306
Adreno 418
Adreno 405
Android (6.0 Marshmallow, 5.1 Lollipop)
Android (8.1 Oreo, 8.0 Oreo, 7.1 Nougat, 7.0 Nougat, 6.0 Marshmallow)
Android (7.0 Nougat, 6.0 Marshmallow), HTC Sense UI
Qualcomm Quick Charge 3.0
20.00 hours
the

average

is 11 h (660 min)
17.5 days (420 hours)
the

average

is 29 days (688 h)
16.00 hours
the

average

is 0 h (0 min)
18.0 days (432 hours)
the

average

is 0 days (0 h)
LTE: 8 hours; Wi-Fi: 9 hours
Single camera
Single camera
Single camera
12.3 MP (Laser autofocus)
13 MP (Sapphire crystal lens cover, OIS, Autofocus, BSI sensor)
Aperture size: F2.0
Aperture size: F2.0; Sensor size: 1/2.3"; Pixel size: 1.55 μm
Aperture size: F2.0
1920x1080 (Full HD) (30 fps)
3840x2160 (4K UHD) (30 fps), 1920x1080 (Full HD), 1280x720 (HD) (120 fps)
1920x1080 (Full HD) (30 fps)
Picture-taking during video recording, Video calling
Video calling
Hyperlapse, Video calling, Video sharing
5 MP
5 MP
4 MP
1920x1080 (Full HD)
1920x1080 (Full HD)
5.59 x 2.85 x 0.48 inches (142 x 72.4 x 12.2 mm)
5.79 x 2.86 x 0.31 inches (147 x 72.6 x 7.9 mm)
5.74 x 2.79 x 0.29 inches (145.75 x 70.8 x 7.26 mm)
5.47 oz (155.0 g)
the

average

is 6 oz (172 g)
4.80 oz (136.0 g)
the

average

is 6 oz (172 g)
5.04 oz (143.0 g)
the

average

is 6 oz (172 g)
Back: Plastic
Back: Plastic
Back: Metal
Fingerprint (touch)
Fingerprint (touch)
Notification light
Notification light