HTC One A9 Review
54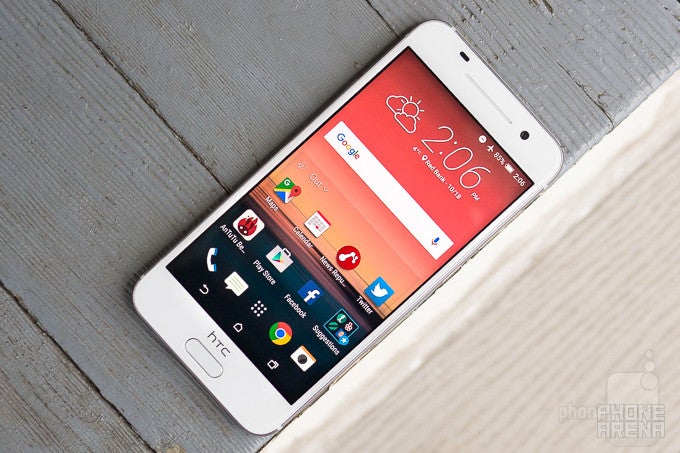 Introduction
Oh HTC, where have you been all year? After the unveiling of the
HTC One M9
earlier this year, the company has been relatively quiet. To be fair, however, the company has been garnering attention in the virtual reality space with the HTC Vive – so yeah, there's still anticipation for that. Going back to the M9, though, it was undoubtedly one of the first major phones of 2015, but it didn't seem to get the attention it deserved.
Many folks point to an inevitable demise for the once acclaimed phone maker, but HTC begs to differ as we're diving ever so closer to that crucial time of the year; the holiday season. Going back to the drawing boards, the company that's highly esteemed for its impeccable designs, takes everything it knows from its Desire and One lines, and combines it together in its new
HTC One A9
– a redefined phone that's hailed as the company's new flagship in the US market.
This year alone, we've seen phones from every side of the spectrum – from premium-priced ones that impress with their incredible performance, to budget ones that still manage to pack some punch. The HTC One A9 is a very different phone for the Taiwanese company, seeing that it combines that premium build quality we're accustomed to seeing, with a price point that aims to appease a wider set of consumers. Can this new venture help swing HTC back into the limelight?
Design
If you're to talk to HTC directly, they would argue that they've come up with the ultimate design with the One A9, as it combines the 'flatter' characteristics from its Desire line with the smooth, all-metal design from its One line. Still, nearly everyone we showed the phone to initially mistakes it for the
iPhone 6
/
6s
, where the similarities are undoubtedly uncanny.
The flat front and back surfaces of the HTC One A9 offer uniformity to its design, while the home button, earpiece, HTC logo, and camera lens are all positioned directly towards the middle for balance. Strangely, though, the microUSB port is just a smidgen offset.
There's no shortage of high-level feel here, as the phone sports that lovable all-metal design that we've come to expect from its designers. It feels great in the hand, thanks in part to the dual brushed and bead-blasted finish of its metal chassis – while being accentuated by its polished sidewall. What makes it even better is that it's pretty comfortable to hold in the hand, compared to some of today's ginormous-sized devices, offering effortless one-handed operation. Its metal body is accompanied with a bit of substance to its weight, but it's something that's warranted to give it that sturdy feel.
The entire package is a seamless design that doesn't have many compromises, with the exception of how it very well looks like an iPhone. We can argue who did what first, but at the end of the day, it's almost guaranteed to be mistaken for an iPhone in public.
Minor design improvements have been carried out on its power button, which offers a rigid feel over the smooth finish of the nearby volume controls, enabling us an easier time distinguishing it with our finger. At the same time, though, most HTC faithfuls will be shocked to know that the A9 forgoes having those dual front-firing speakers that have been a staple feature in the company's phones – replaced instead by a single speaker grill on its bottom edge.
Adding to that, they've brought on a capacitive home button below its display. It manages to be up-to-date by doubling as the phone's fingerprint sensor as well. And boy does it work pretty well by offering the same lickety-split, accurate response as some other, top-tier sensors. Best of all, the addition of the fingerprint sensor means that it's Android Pay compatible.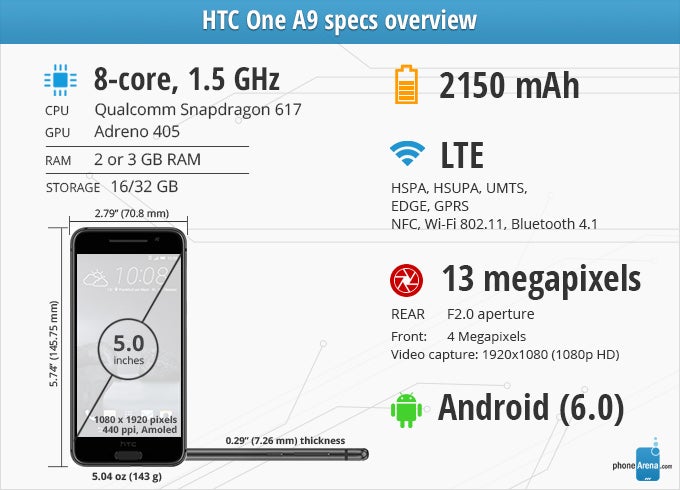 Display
Say goodbye to Super-LCD, hello AMOLED!
A tradition of sorts for HTC, they've favored Super-LCD technology for its displays, but in a strange turn of events, they've gone to the dark side by choosing to put an AMOLED panel in the A9. This reversal of sorts is undoubtedly surprising, but not entirely so, because it's actually not the first time it has opted to go with AMOLED, as the DROID Incredible, Nexus One, One S, and a couple of other phones in its portfolio have used it in the past. Still, it's just an odd revelation – more so when this phone is already greeted with rogue qualities.
Visually, this 5.0-inch 1080 x 1920 AMOLED display looks great. It comes with two available color modes: one that gets you inaccurate but oversaturated colors, and one that enables a more natural type of image. These are complemented by bright viewing angles and the trademark perfect black color, making for a contrasty, dynamic look.
While its color production is on the exaggerated side when it's on the AMOLED profile, putting it on the sRGB profile actually tones it down to offer accurate, true-to-life colors, with just a slight hint of a dominant blue.
As a result, its 6800K color temperature is very close to achieving that ideal 6500K reference value. The only downside here with the screen is its peak luminance of 356 nits, which makes it troublesome to view outdoors with the sun present. Simply, it washes out tremendously, making it impossible to see without shielding it.
Who knows if this is just an indication of what's to come from HTC going forward. By itself, the A9's screen is a different approach for the company – one that seems to work better for us, compared to their latest LCD panels, such as the one we saw on the One M9.
Display measurements and quality
Recommended Stories