HTC EVO Shift 4G gets a fitting price drop to $89.99 courtesy of Amazon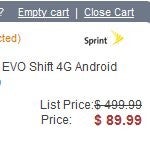 Looking at Sprint's existing handset lineup, both the HTC EVO 4G and Samsung Epic 4G are priced evenly at the golden price of $199.99 with a contract – which is considered by many to be the norm. However, the carrier recently added the HTC EVO Shift 4G which is essentially an EVO 4G with a keyboard, but smaller and without a front-facing camera. Naturally, some would really take a close look at the $50 difference that separates the EVO Shift 4G and the Samsung Epic 4G – and some would probably find more value with the latter.
But thanks to
Amazon
, as usual, we find the price of HTC's latest handset for Sprint to be more fitting at
$89.99
with a new-contract. At the under $100 price point, it's clearly better priced and will easily attract people with its range of feature. Now that all smartphones will soon be paying that
premium data
plan no matter what, it's not going to be a problem for the EVO Shift 4G thanks to its
WiMAX 4G support
. However, existing customers with a qualified upgrade will still need to shell out
$149.99
for the handset.
source:
Amazon
via
Unwired View