HTC Desire 601, aka Zara, announced
3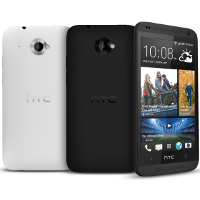 It was backin July when we first caught wind of a possible new HTC device,at the time dubbed the HTC Zara. That moniker changed subsequently,for word on the street put the actual release name as the HTC Desire601. Fortunately, today we mark the end of the (rather frugal) rumorphase, for the HTC Desire 601's name has been both officially confirmed, and we finally have a mostly full specs sheet to go withit.
So how did the rumor mill do?Extraordinarily, actually – it prettymuch nailed it on the head. Which means that the 130g HTC Desire601 will, indeed, come with a 4.5-inch qHD (960x540) display and willbe powered by the dual-core Qualcomm Snapdragon 400, ticking at1.4GHz. In terms of memory, expect 1GB of RAM and 8GB of internalmicroSD-expandable memory.
A bunch of HTC-exclusive goodies have alsobeen confirmed: Sense 5.0 with all of its proprietary software, likeZoe and BlinkFeed, comes slapped on top of Android 4.2.2, along with a borrowed dualfront-facing BoomSound speaker from the HTC One. A 5MP non-UltraPixel AutoFocus camera is also in tow, featuring an f/2.0aperture and 1080p video capture capabilities. Company to the rearmodule will be a rather underwhelming front-facing VGA camera unit.
Among the usual radios that you wouldexpect from a modern device (Bluetooth 4.0, Wi-Fi and GPS), a 4G LTEantenna will ensure blazing-fast speeds wherever the network isavailable. Speaking of availability, the device is currently slatedfor an October release in select markets in Europe, the Middle Eastand Africa, though we've heard a bunch of rumors that thedevice will also reach the shores of the US at some point. Lest youthink we didn't think of price – one is simply currentlyunavailable, but we're reaching out to HTC as we speak for aclarification.