HP announces Android-integrated all-in-one printer
5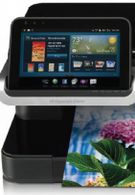 After
HP's purchase of Palm
, we weren't expecting them to follow through with their Android-powered printer plans. But to our surprise, HP has announced their HP Photosmart eStation All-in-One, which integrates a detachable 7 inch Android
2.1
tablet with an all-in-one printer for only $399.
The included Android tablet features a 7 inch screen with 800 X 480 resolution, a 1 GHz Freescale i.MX 51 processor, 512MB of RAM, and 4GB of NAND flash. The tablet runs Android 2.1, and is rumored to be upgraded to 2.2 shortly. The capabilities of the tablet are somewhat limited: (1) It's not connected to the Android market, (2) the interface is optimized for printing (i.e. a print button on every screen, limited apps), and (3) it is more clunky than other tablets on the market.
The eStation might be newsworthy based on price alone. At $399, it puts the other Android tablets to shame, especially considering it includes a printer valued at $150. ZDNet's Larry Dignan astutely points out that this unit, like printers in general, is subsidized to move ink cartridges.
While it only connects via Wi-Fi, the off-contract modality might be what many users really want from their tablet, especially considering the volume of Wi-Fi hotspots available.
source:
ZDNet
and
Laptop
, via
Linux For Devices