HP Elite x3 pre-orders delayed in the US by two weeks
5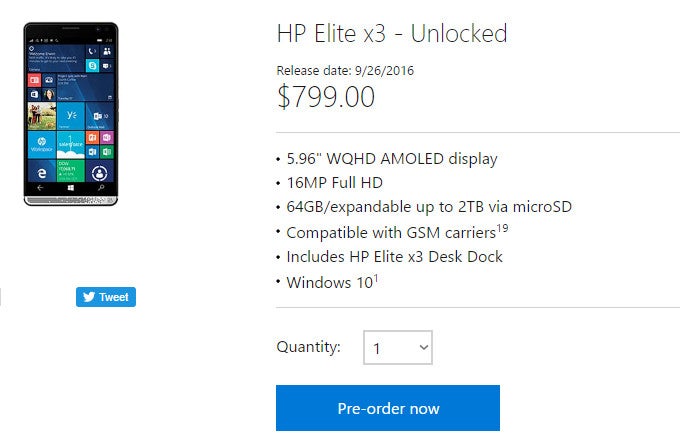 Windows Phone doesn't have too many fans left, but those few seem to have been cursed or something since the highly-anticipated HP Elite x3 has been delayed repeatedly in many regions.
Initially slated for a September 12 release, the HP Elite x3's launch seems to have been pushed back in the United State where it won't be available until September 26.
The information has been confirmed by Microsoft Store, but anything could change by the time the Elite x3 is supposed to be released in the country. If you've already pre-ordered the phablet, Microsoft Store now says the device will ship on September 26.
That's quite annoying since the smartphone costs no less than $799, so we can imagine customers who pre-ordered the Elite x3 can't wait to get their hands on the device.
Speaking of which, the reason the Elite x3 is priced so high is the fact that it comes with a Desk Dock accessory, which enables users to add a mouse and keyboard to the phone when connected to a large display.
Although the Elite x3 will come with Windows 10 Mobile pre-installed, the phablet doesn't ship with the latest Anniversary Update, which was launched by Microsoft last month.
According to HP, the Windows 10 Mobile Anniversary Update for Elite x3 will be released in mid-September, which means by the time the smartphone is launched in the US, the update should already be available for download.
For those out of the loop, the HP Elite x3 is a flagship smartphone that boasts a huge 5.96-inch AMOLED Quad HD (2560 x 1440 pixels) display coated with Corning Gorilla Glass 4.
Also, the phablet is powered by an impressive quad-core Qualcomm Snapdragon 820 processor, coupled with 4GB of RAM and 64GB of internal memory (expandable via microSD card).
The Elite x3 features fingerprint and iris scanners, Qi wireless charging, NFC and 4G LTE connectivity, as well as USB 3.0 port with Type-C connector. All these are kept alive by a large 4,150 mAh battery.