Grand Central Apple Store to open doors for Black Friday
13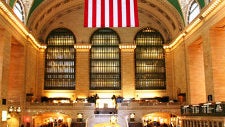 One of the
biggest Apple Stores
to open doors stateside, the one in New York's Grand Central, is still a work in progress, but the truly grand store is said to be ready on time for the Black Friday craze. Expectations are for a big opening in November as training has reportedly begun today at a hotel in Times Square and will continue until November 11th.
Just like everything Apple, the details about the store are kept secret, behind a wall which Cupertino has purposefully erected to stop passers-by from peeking in. Still an MTA employee managed to shoot from above giving a quick look at the progress of works. What you can see on the picture is just a part of a much bigger construction.
The store itself is expected to be slightly different than the rest of Apple Stores as it will be a mixture of the
Beaux-Arts style
of architecture of the Grand Central Terminal and the contemporary minimalist looks of Apple Stores.
Recommended Stories