Google's Cloud Print partners with FedEx to get you printing from Android to the nearest branch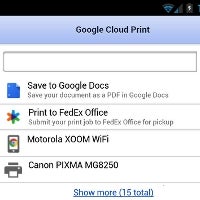 Google's Cloud Print service allows you to send stuff for printing directly from Chrome or your Docs account wherever you are, and, by extension, from your Android device.
It just got a bit more useful, with an announced
FedEx partnership
, which allows you to push that presentation for printing, and collect it from the nearest FedEx branch around you, provided you have the code sent to you in an email.
The document will hang out in the cloud for the next 10 days, after which you will have to push it through Cloud Print again, if you haven't collected the pages already from the FedEx Office Print & Go self-service machine nearest to you. Google also added Canon to the list of printer makers that work with Cloud Print, which also includes machines from HP, Kodak and Epson.
In addition, Cloud Print introduces a bit convoluted way to push docs to your Android 4.0 device from it - you have to install Chrome for Android beta on it, sign in, and then the device will be available in Cloud Print as a destination, and the document will be sent to it as a PDF file for taking on the go.