Googler pops the question to girlfriend with Nexus 7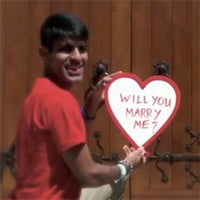 Google employee Raj decided to pop the big question to his girlfriend Aditi earlier this month. Opting to go a very creative route, Raj gifted his love with a brand new Nexus 7 and a couple jellybeans while in Chicago.
In addition to the slab, he preloaded the device with her favorite apps, books, music, movies, and one extra surprise – a four-minute video compilation of photos of himself and their family and friends making heart shapes, ultimately leading to a photo of him holding a heart shaped whiteboard that reads "Will You Marry Me?"
In the end, Aditi said yes and Raj uploaded a video containing the backstory, the video he made for her, and a photo of her response.