Google working on new feature called "Google Store View"?
This article contains unofficial information.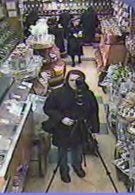 Google has always been known to think outside the box and come up with some of the most innovative services around. As if online shopping were easy enough as you peruse the virtual store shelves all from the comfort of your home, Google may be up to something where they will actually bring the store to you. There are some reports regarding a New York retailer named Oh Nuts allowing people from Google to come into the store and take photos – specifically the actual innards of the entire store. Pictures of products on display were also taken and may land itself in a Google Maps feature called "Google Store View." Thanks to their Google Street View, just about anyone can take a virtual stroll of some of their favorite destinations – this new "Google Store View" will allow you check out the stores you see on street view. One of Google's spokesperson responded by saying, "We are always experimenting with new features for Google Maps. We have nothing further to announce at this time." If this does pan out to become true, that means Google better get the ball rolling as they will need to visit plenty of stores.
via
UberGizmo