Google wants people to "make fun of their friends" who don't get Android 5.0 right away
55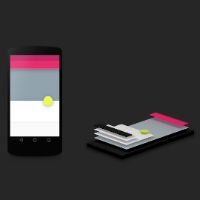 One of the main aims of the Nexus line has always been to sort of shame manufacturers into pushing updates faster by showing how fast Google can do it on devices with no software customization. This aim has been furthered by Motorola, which uses minimal system-level customizations, and keeps most features in apps. Now, a Google exec is coming right out and saying that the company wants people to "make fun of their friends" who don't get Android 5.0 right away.
The byte comes from Google's VP of Android product management, Brian Rakowski, in the same interview with
CNET
where he said that people will learn to
love the size of the Nexus 6
. Rakowski obviously spoke highly of Android 5.0 Lollipop and Material design, and said that Google would continue to show off Lollipop in new entries into the "Be Together. Not the same." line of ads. And, he went so far as to say that Google wants "people who have 'material [design]' devices to make fun of their friends who don't."
The idea would seem to be that Google wants to annoy users who don't have Lollipop so that they complain to manufacturers and maybe push manufacturers to change how they design their Android customizations, and move faster with updates. This isn't exactly a new strategy, but Google has never come out and stated it so plainly before.