Google teaches devs to have in-app links open in Chrome for iOS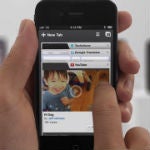 One of the biggest issues we had with
Chrome for iOS
when it launched a couple weeks ago was not a problem with the app itself, but rather a limitation in the iOS system, which severely hampered the functionality of any 3rd party browser. The trouble is that no matter how good a 3rd party browser can be, there is no way to change the default handling of links in iOS, at least not by the user.
Apparently, while users can't set the system to automatically open links in any browser other than Safari, developers have the power to make that change, and Google wants to teach you how. The idea is similar to that which allows iOS developers to have links open in Dropbox, but the code behind it is a bit more complex. Google has posted sample code which will allow an iOS app to check if Chrome is installed, and if so pass along URL info as a parameter which will be opened in a new tab.
We assume that this functionality is something that Google itself will begin building into its own iOS apps, and if Google can recruit some other high profile developers, maybe Apple will be forced to allow a more formal way to change default application handlers. Either that, or it will force Apple to clamp down harder and remove the ability to do this at all. We'll have to wait and see, but it should be interesting.