Google Translate app is now available for the iPhone
1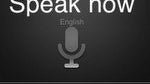 Apple iPhone owners who travel around the world will surely be appreciative now that the venerable smartphone is being braced with the presence of the
Google Translate app
.
Don't you just hate it when you struggle to come up with words to speak something simple in a foreign country? Well, the Google Translate app is something that will come in handy for those situations because it'll do all the translating for you. Basically, the app
supports 15 different spoken languages
which will allow you to speak whatever you want to say. From there, you can select up to
50 languages
for it to translate your words – which you can read to yourself on the handset.
Furthermore, you'll find that the app is capable of reading the translation back to you in over 23 different languages to choose from. Finally, you can always resort to doing this the old fashion way since the app works like a dictionary – enabled you to get meanings for translated words.
So never find yourself in an awkward position now that Google Translate is available for download through the App Store. Instead, you can act nonchalant and let the app do most of the work for you.
source:
Google
via
Phonescoop
Recommended Stories