Verizon iPhone 4 Review
27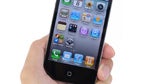 Introduction:
Finally! It's really here, and this time, it's for real – no joke. Yes, Apple's wonderful smartphone has been the topic of conversation amongst loyal customers for quite some time, and despite seeing an onslaught of high profiled Android devices being released, Verizon can now say that the iPhone is here. However, we're basically seeing the same model we saw over 7 months ago – aside from the fact that it now packs a CDMA radio and a slightly redesigned antenna. And without taking much away from the fact that Verizon is just now getting it, there are still а lot to be excited about for Big Red's handful of customers.
As much as people think that this is benefiting Verizon mostly, you have to look closely at the mobile landscape and comprehend the fierce competition that's brewing. Naturally, Apple is going to reap the benefits of getting their product out to the millions of Verizon customers out there nationwide. Now that it's front center competing against the growing and bountiful Android army, the iPhone 4's presence may undoubtedly alter the landscape in due time. So are you ready for the
Verizon iPhone 4
?
The package contains:
Apple iPhone 4
USB Cable
User Guide
Stereo headphones
Wall Charger
Apple Decals
Design:
For the most part, the Verizon iPhone 4 is a near identical replica of the AT&T version from 7 months ago. As we already mentioned, the only thing different is the fact that it boasts CDMA radios internally, notches around the antenna are placed differently, and that the vibrate switch has moved ever so slightly.
In terms of design, it still radiates with a fantastic look that's sure to impress Verizon customers – even more when every inch of its body resonates with a premium feel. In fact, it seems more luxurious versus the plastic exteriors found on other handsets since it incorporates two glass surfaces that are sandwiched together with a stainless steel brushed band. Employing a streamlined profile (0.37" thick), the handset is perfectly sized to accommodate every hand size – although, it does pack on some noticeable weight (4.83 oz). Even with its solid construction, it would likely take a beating if it were dropped from a good height. Still, its premium materials will repel the adverse effects of normal wear and tear. All in all, the Verizon iPhone 4 is just one sleek, sexy, and classy looking smartphone.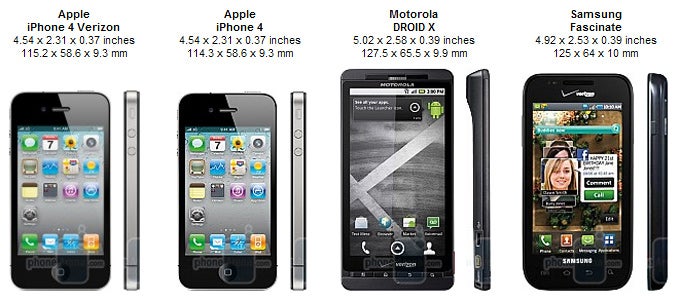 You can compare the Verizon iPhone 4 with many other phones using our
Size Visualization Tool
.
Not surprisingly, one of the biggest attractions with the Verizon iPhone 4 is nothing more than its stunning looking
3.5" IPS display
that sports a very impressive 640x960 resolution and support for 16.7 million colors. Dubbed the "
Retina Display
," it screams superb clarity that enables the naked eye to meticulously absorb every single pixel to the tooth – thus allowing for some serious high pixel density. At the same time, it shines with enough luminance and natural color production to make it more than visible during outdoor usage, while still offering perfect viewing angles. Overlooking that it might not necessarily offer the largest real estate on a smartphone, it's still impressive to this day since very few handsets can match its blinding detail – which is attributed with its high resolution. Finally, the oleophobic coating on both glass surfaces allow for a smooth and accurate tracking of your finger – while at the same time, it continues to make the handset look clean at all times with a simple wipe.
Below its touchscreen, we find the same old springy
home button
that's been improved with each design, but of course, it's just about perfect with this one. Conversely, we find the earpiece and
0.3-megapixel front-facing camera
directly above the display – with the proximity and light sensors perched inconspicuously close-by.
On the
left edge
of the iPhone 4, we find its separated volume buttons that are circle in shape, protrude enough for a distinguishable feel, and offers that usual tactile response when pressed. And if you plan on using a case that fits the AT&T iPhone 4, you'll be sad to know that it's not compatible with this one because the vibrate switch has been moved just a tiny bit up.
Looking at the
bottom side
, we find the microphone, speakerphone, and proprietary 30-pin connector port that charges and syncs the handset. Turning it around to the
top edge
, you'll locate its 3.5mm headset jack, noise cancellation microphone, and a reasonably sized power button that's springy and raised from the surface to offer a fantastic feel.
Finally, the
5-megapixel auto-focus camera with
an LED flash are located towards the upper left corner on the
back side
of the phone with the prominent Apple logo stamped on at the middle. As much as people still complain to this day, the Verizon iPhone 4 contains an unremovable battery that requires you to send it away from replacement.
Verizon iPhone 4 360-degree View: Recommended Stories