Google Search gets even better on iOS with support for the iMessage extension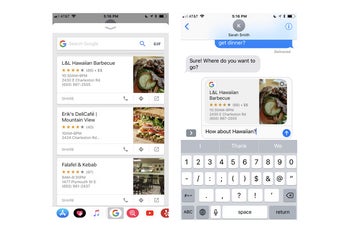 Google has just announced that Search on iOS is getting improved with the addition of a handful of new features. The announcement comes less than a week after Google confirmed
important changes are coming to its Search app
to provide more in-depth results to queries.
The most important change for Search users on iOS is the addition of iMessage extension, which is meant to help them search and share GIFs, as well as restaurant and videos, when they message a friend.
With the help of icons like "Food" and "Nearby," iOS users will be able to share their favorite locations, or perform a search and share a card directly into the conversation. According to Google, no additional updates are needed if you already have the Google app installed on your iOS device.
Another important improvement is the ability to discover and explore from any webpage in
Safari
. For example, whenever you share a webpage with Google, the app will show you suggestions for related content, which will allow you to learn more about the topic. This feature is not only available in Safari, but in all browsers installed on your
iPhone
.
Last but not least, the latest update brings drag and drop to search, save, or share on
iPad
. So, if you have an iPad that runs
iOS 11
, you will now be able to do all those actions with text, images, and links to and from the Google app.
Keep in mind though that the new integrated support for the iMessage extension is only available in the United States for the moment, but Google says it will expand the capability to more languages and countries soon.