Google Play Family Library rolling out today and includes some iOS sharing
2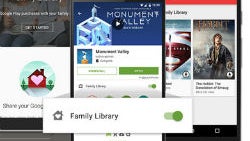 We've known for a while that Google was getting ready to offer Play Store app and media content sharing between family members and the features and today is the day that the official Google Play Family Library has begun rolling out to users in various regions of the world. There are even some options for those in your family but using iOS devices.
The Family Library is designed to let you share apps, games, movies, and books with those in your family, which can be up to six people total. Obviously, music isn't included because for that you would need to buy the
Play Music Family Plan
. There are some restrictions of course, but overall it's pretty easy to sort out. As a family manager, you can set up a single source of payment from which anyone else can purchase content. By default users 13-17 years old need approval for any purchase and users over 18 need approval only for in-app purchases. But, each user can also use their own payment methods if they want.
Any apps and games purchased after July 2, 2016 will automatically be included in the Family Library, though you can choose to remove certain apps if you want, or only add certain purchases instead of having everything automatically added. Apps or games purchased before July 2nd will need the developer to opt-in to allow it to be added to the Family Library. As for movies, TV shows, and books, you'll have the same choices in terms of adding or removing content to the Family Library, but the cool part is these pieces of content will also be able to be shared with family members on iOS or those just using the web as well.
The Google Play Family Library will be rolling out over the next few days in Australia, Brazil, Canada, France, Germany, Ireland, Italy, Japan, Mexico, New Zealand, the United Kingdom, and the United States.