Google Play 25 billion download sale starts with apps and music
10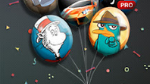 Earlier today. first heard about the sale that Google had planned to celebrate reaching the milestone of
25 billion app downloads
, but the actual sale items hadn't been listed yet. That just changed as the Google Play Store now has the listing for apps and music downloads that are on sale.
The app sale is the star of the show today, as 14 apps have gone on sale for just 25 cents each. The savings can vary though since some of the sale apps normally sell for just 99 cents, like Draw Something (does anyone still play that?), and Angry Birds Space Premium, although some of the apps are a great deal like Asphalt 7, and OfficeSuite Pro 6.
Some music also went on sale as part of the deal, although the savings aren't as big as we've seen in the past from Google Play. Public Enemy's In total there are 25 albums on sale, some for $3.99, and most for $5.99. There's a solid mix of music here from The Beach Boys, to John Coltrane, and Patsy Cline to the Roots.