Google Pixel 2 XL vs Pixel 2 vs Pixel XL: Here are all the specs differences
7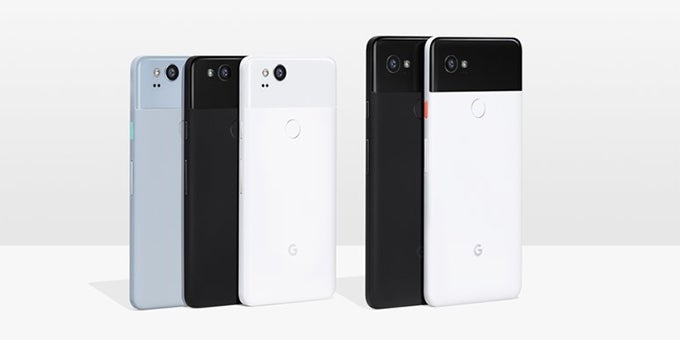 Google has new Pixels. Great.
But how do the new Pixel 2 and the Pixel 2 XL fare against last year's excellent Pixel XL? Are the new phones the heralds of an impending upgrade for existing Pixel users? Let's find out!
Check out the specs below and compare them as long as you want and make up your mind whether you should drop some hard-earned cash for Google's latest or wait these two out.
Oleophobic coating, Scratch-resistant glass, Ambient light sensor, Proximity sensor
Scratch-resistant glass, Ambient light sensor, Proximity sensor
Scratch-resistant glass, Ambient light sensor, Proximity sensor
Qualcomm Snapdragon 821 MSM8996 Pro
Qualcomm Snapdragon 835 MSM8998 (10 nm)
Qualcomm Snapdragon 835 MSM8998 (10 nm)
Quad-core, 2150 MHz, Kryo, 64-bit
Octa-core, 2350 MHz, Kryo 280, 64-bit
Octa-core, 2350 MHz, Kryo 280, 64-bit
Adreno 530
Adreno 540
Adreno 540
128GB, not expandable
128GB, not expandable
128GB, not expandable
Android (10, 9.0 Pie, 8.1 Oreo, 8.0 Oreo, 7.1 Nougat)
Android (11, 10, 9.0 Pie, 8.1 Oreo, 8.0 Oreo)
Android (11, 10, 9.0 Pie, 8.1 Oreo, 8.0 Oreo)
USB Power Delivery
USB Power Delivery
USB Power Delivery
32.00 hours
the

average

is 11 h (660 min)
21.8 days (522 hours)
the

average

is 29 days (688 h)
LTE: 14 hours; Wi-Fi: 14 hours
Single camera
Single camera
Single camera
12.2 MP (OIS, Laser and PDAF, CMOS image sensor)
12.2 MP (OIS, Laser and PDAF, CMOS image sensor)
Aperture size: F2.0; Sensor size: 1/2.3"; Pixel size: 1.55 μm
Aperture size: F1.8; Focal length: 27 mm; Sensor size: 1/2.6"; Pixel size: 1.4 μm
Aperture size: F1.8; Focal length: 27 mm; Sensor size: 1/2.6"; Pixel size: 1.4 μm
3840x2160 (4K UHD) (30 fps), 1920x1080 (Full HD) (120 fps), 1280x720 (HD) (240 fps)
3840x2160 (4K UHD) (30 fps), 1920x1080 (Full HD) (120 fps), 1280x720 (HD) (240 fps)
3840x2160 (4K UHD) (30 fps), 1920x1080 (Full HD) (120 fps), 1280x720 (HD) (240 fps)
Video calling, Video sharing
OIS, EIS, Video calling, Video sharing
OIS, EIS, Video calling, Video sharing
8 MP
8 MP
8 MP
1920x1080 (Full HD) (30 fps)
1920x1080 (Full HD) (30 fps)
1920x1080 (Full HD) (30 fps)
6.09 x 2.98 x 0.34 inches (154.72 x 75.74 x 8.6 mm)
6.22 x 3.02 x 0.31 inches (157.9 x 76.7 x 7.9 mm)
5.74 x 2.74 x 0.31 inches (145.7 x 69.7 x 7.8 mm)
5.93 oz (168.0 g)
the

average

is 6 oz (171 g)
6.17 oz (175.0 g)
the

average

is 6 oz (171 g)
5.04 oz (143.0 g)
the

average

is 6 oz (171 g)
Back: Aluminum, Glass
Back: Aluminum, Glass
Back: Aluminum, Glass
Splash, Dust; IP53
Water, Dust; IP67
Water, Dust; IP67
Fingerprint (touch)
Fingerprint (touch)
Fingerprint (touch)
Notification light
Notification light