Google Goggles big update brings continuous scanning
0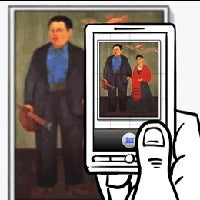 Google Goggles
is that piece of amazing software that you probably don't use in your everyday routine, but is nonetheless extremely cool. It lets you identify real-world objects by just pointing your phone's camera at them and snapping a picture, it will also translate text and even solve Sudoku for you, and now it's become even more useful. The latest update to Goggles brings the version count to 1.7 and adds continuous scanning so you can search away without actually having to press the shutter button.
The visual search now works in a
more intuitive way
- just point the camera to an object and a a description almost instantly comes up. Google is demonstrating this with pictures (you can identify the artist and name of the picture), books, landmarks and products. For translation, though, you'd still have to shoot a picture as it doesn't yet work with continuous scanning. The same goes for adding a contact - you'd still need to snap a picture.
reading
, Goggles is also an interesting addition. With even better text recognition, you can take a picture of an excerpt of what you (or someone else is) are reading and the search will give you related results.
The newest Google Goggles is now available on the Android Market for free, but continuous scanning will only work on devices with Android
2.3
and higher.