Google Fit gets Android Wear watch face, will now estimate burned calories
8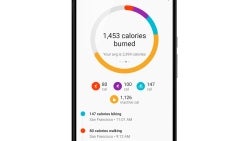 Up until today, Google Fit was not able to provide an estimation of the numbers of calories you've burned during an activity, but that changed today as Google announced a new update for the Fit app that fills this gap while adding a few extra features as well.
While most fitness buffs will tell you that there's much more to a daily sport routine than just keeping your calories in check, most people have a single goal in mind during their daily/weekly routines: burn as many calories as possible.
Thankfully, keeping track of the number of burned calories is now possible in Google Fit. Just update your profile with your age, height, and weight, and Google Fit will estimate the number of calories you've burned during an activity.
The new Google Fit update also comes with a redesigned history screen that groups your activities by days, weeks or months. A Google Fit widget that you can place on the homescreen of your smartphone and an Android Wear watch face are both included in the new version of the app.
The new Google Fit update will gradually spread out across Google Play servers, meaning that it might take a few days before your Android device gets the new features.