Google brings Android Auto to phone screens via Play Store
1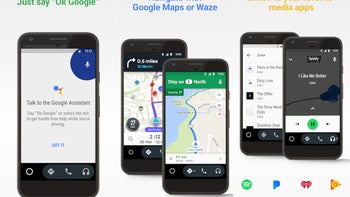 Google has finally released what it promised back in May at I/O 2019, the Android Auto for phone screens. Although Android 10 comes with Android Auto built-in, there seems to be an issue with the feature where the Android Auto icon disappears from the launcher on phones powered by Google's most recently Android OS version.
The new standalone app is an answer to this issue, so if you're affected by the problem and can't use Android Auto as intended, you can download the Android Auto for phone screens app directly from the Google Play Store,
9to5google
reports.
Basically, after breaking Android Auto on Android 10, Google decided to fix it by releasing a dedicated app that users must
download via Google Play Store
. It's not a big deal and it appears to be working flawlessly.
In theory, if you have an Android 10 smartphone and an Android Auto compatible car, you can project the car display without downloading the app, but if you can't see that Android Auto icon from the launch, then you should definitely install the standalone app.