Gomadic now shipping the SunVolt mobile solar chargers, juice your phone as fast as a wall outlet
5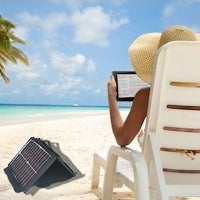 We've seen our fair share of
mobile device solar chargers and back covers
, but up until now the silicon efficiency was pretty low, juicing the phone or tablet at turtle speeds.
Enter Gomadic with its newly minted SunVolt and SunVolt MAX solar chargers. They ship with standard USB charging ports, and offer the TipExchange system which can put the respective ending to the cable for various device charging ports, and each tip will run you $5.95, if needed. This way you can just place different tips for a variety of phones, tablets, notebooks, digital cameras, and so on.
The big difference between the SunVolt duo and other solar charging systems so far is its efficiency and charging speed. The company claims that, on a sunny day, it will charge your phone as fast as a wall outlet, making it ideal for camping, beach, hikes and so on.
The solar chargers are light, come with a water-resistant case, and can be set up in minutes. The difference between the regular version, which is $99.95, and the MAX one, which is $129.95, is the larger solar panel, which charges things 50% faster. All in all, a pretty decent price to pay for juicing up off the grid.