iSolarPlus Solar Powered Charger Case hands-on
14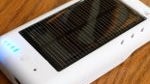 Already, we've checked out battery charging cases for the
iPhone
in the past, like the
Mophie Juice Pack Plus
and the
PowerSkin
, but despite it close similarities to those useful cases, the
iSolarPlus Charger Case
for the iPhone 4 & 4S packs one unique feature – a
solar panel
that allows it to charge under the sun. You heard that right people, if you deem yourself as a green-friendly individual, this intriguing case from mysolarlife might simply be what you've been waiting for.
As much as we adore the fact that it equips a sizable
2,400 mAh
battery and a solar panel, the iSolarPlus Charger Case is indeed a
chunky
one as it seemingly is thicker than two iPhone 4S units on top of one another. So if portability is something high on your list, you can forget about it with this one – even more, it's thicker than previous battery cases we've checked out. Although its design is practical, which accommodates all versions of the iPhone 4 & 4S, the top edge and some of its sides are left exposed, and on top of that, it doesn't come with any kind of screen protectors to protect the display of the iPhone. Obviously, we're a bit hesitant on flipping it over to charge under the sun, since the front portion of the handset is going to come into contact with the surface we lay it on.
Now it's nice that the case will charge even on a cloudy day, and in the event you're going on days without sunlight, you can charge it via its miniUSB port. However, it took us nearly five whole days to get the battery at 100% capacity via its solar panel. Granted that it wasn't sunny on all of the days, it's the real-world scenario we're putting it through. Seeing we have the white version of the case, its better equipped in keeping the handset cool, but we're scared to imagine leaving the phone inside of the black version of the case – especially when it can get a teeny bit toasty after a few minutes baking outside in the sun.
Sadly, the 2,400 mAh battery fails to provide a full charge in our testing. In fact, after completely draining the iPhone 4S, the fully charged iSolarPlus Charger Case manages to charge it back to 85 percent – so it hardly provides the juice to bring us back to full form. Still, this is one solution you'll want to check out if you plan on going consecutive days with no outlet in sight to charge your iPhone. In theory, you can charge your iPhone for free thanks to good 'ole solar power. For
$89.99
, some might find a decent amount of value to pick one up.
source:
mysolarlife