Global Traveler readers: AT&T offers the best wireless service in the world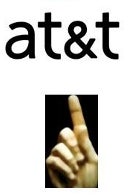 According to the readers of business and luxury travel magazine Global Traveler, AT&T has the best wireless service in the world. The voting was done as part of a survey on the "best of" many different categories. "AT&T has a name that is synonymous with quality, and theirselection of smart phones can't be beat," said Francis X. Gallagher,Publisher & CEO of Global Traveler. "We are excited that thereaders of Global Traveler selected AT&T best. This is one of the most voted on questions, which shows how important this subject is to our readers."The question of who offers the best cellular service seems to spark an unusually intense debate, especially in the U.S. where AT&T has been sparring with the nation's number one carrier (in terms of subscribers), Verizon Wireless, in a often funny series of television ads.
"We sincerely thank Global Traveler readers for this honor,"said Bill Hague, executive vp of International for AT&TMobility and Consumer Markets. "We know how critical wirelessconnectivity is when traveling abroad–whether for business or pleasure.That's why AT&T continues to work hard to aggressively expand ourvoice and data footprint around the world, while maintaining thelargest portfolio of devices that work around the world, so that ourcustomers can travel the globe with confidence." AT&T has the largest overseas presence of any U.S. carrier and customers can make and receive calls in more than 215 countries and send e-mailand browse the Web in more than 190 countries, including offering 3G service in more than 100countries.
source:
ATT