Give us Feedback - Win a Gadget!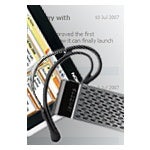 The contest is over. Expect update with information on the winners!

Hello Dear Phone Arena readers,
PhoneArena has been online since 2001 and over the past 6 years we've been delivering to you the latest information about mobile phones and wireless technologies.
A few months ago, we launched the third edition of our webpage, improving the user experience thanks to the latest trends in webpage design and functionality. In addition to the great content, we've put a great effort forward to deliver the information you want in the way you want to see it. We are trying to be as much user-friendly as possible because our target is to deliver you experience you would like. We have designed our site to be as user friendly as possible, as our goal is to provide you with the best online experience possible.
However, PhoneArena is visited by millions, and it is impossible to know what everyone wants, so we've decided to give you an outlet to relay to us your ideas about this site!
PhoneArena is listening to your advices and suggestions on how to improve our webpage!
You don't like something – tell us. You want us to add some new functionality – give us a clue. Overall - GIVE US FEEDBACK!
Email us at

suggestions@phonearena.com

with subject: User Suggestion Contest, or use the
linked form
to tip us!
We will collect all ideas, sort them and decide which are the best. The top 10 suggestions will enter a draw to win a brand new Nokia 770 Internet Tablet to surf the web wirelessly or a fashionable Jawbone Bluetooth Headset.
Thank you! -- PhoneArena Team --
Official details:
·You have until August 31, 2007 EST to submit your entry
·Send all entries to us at suggestions@phonearena.com or via this link
·The contest is open to anyone anywhere, but only US residents are eligibleto win a price
·Bysubmitting your ideas / suggestions to us, you hereby grant us and its affiliates,subsidiaries, licensees and assigns, an irrevocable, perpetual and royalty-freeright to use, reproduce, edit, display, transmit, prepare derivative works of,modify, publish and otherwise make use of the submitted information in any andall media, whether now known or hereinafter created, throughout the world andfor any purpose.
·You can enter multiple times, but you can onlywin a maximum of one prize
·Thewinners will be notified by email