Gingerbread update for the Samsung Galaxy S leaked to the mass public
6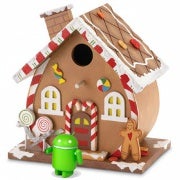 It turns out Samsung is cooking some Gingerbread 2.3.2 love for the
Samsung Galaxy S
(i9000) owners in the form of a ROM, which is surely a great news for everyone who has this handset. This yet unofficial ROM was subsequently leaked to the mass public, but as of now it's not known when it will be released by the Korean manufacturer.
This leak makes it pretty much certain that the talented developer community is in hard work as we speak to give us a working version as soon as possible - and chances are they will release it before Samsung. It's even better that hackers will develop working ROMs for Samsung models other than i9000, so more people will be able to taste the Gingerbread flavour.
If you want to give this ROM a try, you can follow the source link, but take into account it's only a beta build. It's also worth noting that this update is quarter of a gigabite in size, so Samsung is definitely not messing around this time.
source:
Android.com.pl
via
XDA-Developers
and
Redmond Pie