Giant iPads appearing at Apple Stores: Holiday displays reveal Santa is on FaceTime
0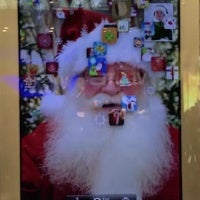 Have you passed recently near an
Apple Store
? The simplistic yet elegant stores haven't changed much in their architectural look and feel, but some of them now feature a giant iPad 2. Okay, actually it's a giant screen looking like an iPad 2 and it's playing a video aiming to convince you that there's a myriad of wonderful things you can do with the tablet. Of course, the clever marketing geniuses from Apple have not just put it to impress - the goal is sales, and the video sequence is pretty convincing.
First it goes throught the photo app, which alone has a slick UI, but then the tablet goes through Flipboard with its no less impressive transitions. Then you get treated with virtual cookies and the adventures of Om Nom from Cut the Rope, all ending with Santa on FaceTime and a rain of apps.
And now probably is indeed a good time to get an iPad 2 as Apple has cut the prices on
refurbished iPad 2s
to only $419 for the basic Wi-Fi-only 16 gig model.