Get a free $250 Target gift card with the purchase of an Apple iPhone 7 or iPhone 7 Plus
17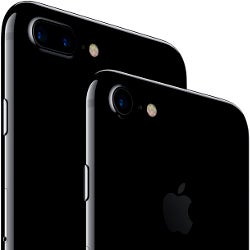 Last week, one of our sources passed along to us in advance, information about a
deal Verizon is offering in combination withTarget
. With a coupon found on the Cartwheel discount pricing app, T-Mobile subscribers porting over their phone number to Verizon get $300 off the purchase of an
Apple iPhone 7
and
Apple iPhone 7 Plus
. This deal runs until June 10th. And thanks to the same source who was right on with that deal, we can exclusively tell you about another deal that starts on June 11th and runs to the 17th.
During the aforementioned dates, head over to Target and purchase the Apple iPhone 7 or Apple iPhone 7 Plus using device financing (aka Equipment Installment Plan). Activate the handset on Verizon, Sprint or AT&T, and you'll receive a $250 Target gift card for the low, low, low price of free!. AT&T customers cannot use this deal in conjunction with an upgrade. This means that those of you on AT&T who wish to take advantage of this offer will have to add another line.
Starting this coming Sunday and lasting for a week, Target will sell you a Series 1 Apple Watch for $199.99 and up, giving you a savings of $70. If you want to buy a Series 2 Apple Watch, the price starts as low as $369.99.
Android users have a great deal of their own at Target. From June 11th to June 17th, purchase a
Samsung Galaxy S8
or
Samsung Galaxy S8+
on Verizon, AT&T or Sprint using an Equipment Installment Plan, and you will receive a $200 Target gift card for free. And when you buy either the Galaxy S8 or Galaxy S8+, you can purchase the Samsung Gear 360 Camera for only $49. The camera is normally priced at $229.99.
Other savings available at Target include the
Samsung Galaxy Tab A
tablet with a 10.1-inch screen. Save $70 on this device, on sale for $229. You can save $30 on the 8-inch version of the slate, priced at $169.99.
Now let us ask you a question. Does everyone in your neighborhood have a smart speaker but you? During the sale, you can pay $109 and take home the Google Home. Loaded with Google Assistant, this nifty little product can control the smart appliances in your house, play music, give you the latest weather, stock prices, sports scores and more.
Remember, these deals start June 11th at your local Target store.
Thanks for sending this in!