Get a certified refurbished Amazon Fire 10 tablet for $50 off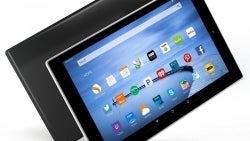 Interested in a cheapie tablet that would do fine for multimedia, reading, and light gaming? Amazon is currently selling a certified refurbished (basically new) Fire HD 10 for $150 when the
FIRE10
code is applied at checkout. That's $50 off the regular price for a refurbished device, and $80 off the price for a brand new one. It's a decent discount, and Amazon's certified refurbished products are covered by the same warranty given to new ones, so you'll be set against misbehavings for some time to come.
Featuring a 10.1-inch 1280 x 800 resolution display and powered by a quad-core processor, the tablet has a 5MP rear cam, a front camera, an 8 hour battery life, and tight Amazon integration. The tablet is a gateway to Amazon's Underground app store for free apps, games, and in-app items. It also boasts access to Netflix, HBO, Pandora, and other streaming content services. Alexa, Amazon's voice assistant which answers your questions and provides quick access to entertainment, will be added soon. The $150 Fire HD is sold with 16GB of internal storage and offers free unlimited cloud storage for all Amazon content and photos taken with it.
Head to the source link below if you want to pick up the tablet. Remember, the code is
FIRE10
.
ALSO READ