Galaxy Note 7 delay sees Samsung's market value drop by $7bn
82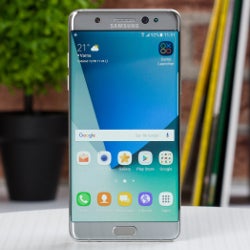 According to a new report, the
Galaxy Note 7's battery issue
has not only descended the launch of
Samsung's flagship phablet
into chaos, but has also hit the company's market share to the tune of $7 billion. Though Samsung appears to have identified the issue — a faulty battery pack provided by one of its manufacturing partners — the company is still
expected to announce a recall
in the immediate future.
Numerous
reports of Note 7 handsets exploding
whilst on charge have cast a black cloud over what initially appeared the perfect roll-out. With 400,000+ units shipped in South Korea, things were going especially smoothly before, well, crashing and burning. A new report from
Reuters
has pointed out the swift drop in Samsung's MV, and with IFA delivering the usual
conveyor belt of devices
, this incident could hardly have been more ill-timed.
Along with the slew of mostly Android manufacturers that could shift more units at Samsung's expense, there's also Apple, whose new
iPhone 7 duo
will be announced next week
. Indeed, HDC Asset Management fund manager Park Jung-hoon believes it is inevitable that Samsung's anticipated H2 profits will take a big hit. In an assessment likely shared by many with financial interests in Samsung, he said:
Apple is supposed to show off the iPhone 7 next week and this issue has emerged, so the current state of things do not look good.
Only time will tell if Samsung can turn this launch around. But with some prospective buyers likely to swerve an $850 device that may or may not explode if charged, the potential long-term damage this could do to Samsung's PR and consumer trust will no doubt keep bosses awake for the time being.
On a lighter note, it appears that only a small portion of Note 7 devices sold — supposedly less than 0.1 percent — have been affected. This should go some way to explaining why, out of nearly half a million sold, only a few have reported a problem. Additionally, it is not believed that launches beyond South Korea will be affected by the devices featuring rogue batteries,
despite delays
.