Gadget turns your iPhone into an amateur microscope with 60x zoom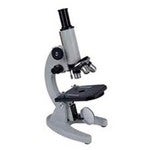 If you are looking for a way to unleash the geek that hides inside of you, this little iPhone gizmo might just do the trick. Enter the pocket-sized microscope attachment, the tool that grants your iPhone with 60x optical magnification capability. Once you have the gadget at your disposal, what can be observed with it is only a matter of your creativity. Simply slide it on top of your iPhone and take a closer look at the pixels of a LCD display, zoom in on a circuit board, or read the miniature text written on a dollar bill. What is even better is that you can always snap a photo or record a video of the object with the iPhone's camera.
This portable microscope fits the iPhone 4 only and will set you back roughly $50 including shipping costs. Even though we have seen similar DIY microscopes before, this has to be the first professional solution that we come across. The iPhone microscope may not be as versatile as a professional unit, but for amateur explorers like us 60x magnification should be more than enough.
source:
Firebox
via
AVING