Dead Zebra's four new mini collectable figures celebrate a decade of Android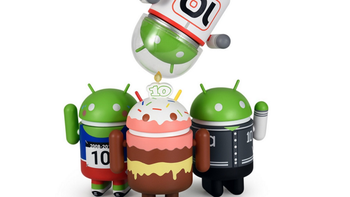 Dead Zebra is a company that produces limited edition toys, figurines, artwork and more. For example, it is known for
the miniature Android collectables that it sells for the holidays
.
A tweet on the firm's @deadzebra Twitter site today
(
via Android Police
) reveals a picture of four new special edition Android figurines. Each figure celebrates a decade of Android by including the number 10 on its body.
One figure is designed to look like a cake with a candle on top that has the number "10" on it. Another one looks like a marathon runner with the entry number "10" on his shirt. There is a mini Android figure wearing a varsity jacket with the number "10" on it, and an astronaut with a see-through helmet and a large "10" on his space uniform.
The four new Android collectables will be available on
the Dead Zebra website
starting this Monday, November 26th. Pricing is unknown at this point, but the website does feature a number of Android related items that could make terrific holiday gifts for the Android users in your life.