Four men line up for 10 days to get the first two iPhone 6 units – and to give them away
43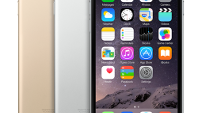 It seems that the very first two
iPhone 6
units to be sold in the world will be immediately given away for free to two lucky Australians.
The whole endeavor is a PR stunt by Australian startup Alphatise. In short, Alphatise is a marketplace service, which helps shoppers find items they wish to buy at price points that the users themselves choose. It accomplishes said task via a dedicated app for iOS, Android, and desktop, which remembers users' criteria, scans online stores, and displays alerts when it finds the desired items and the desired price points (or below).
In order to increase its popularity, Alphatise ran a contest to give away two 4.7" iPhone 6 128 GB units in Space Gray. To enter the competition, all one had to do is register for the service. The contest ended today and the two lucky winners have been chosen, though, in order to be able to deliver on its promise, Alphatise has been preparing for the competition's end for more than a week.
It was on the 9th of September, when 4 patient men, representatives of the startup, were positioned in front of the Apple store in Sydney, Australia, and reserved spots № 1 and № 2 in the line for the new smartphones. They rotate in teams of 2 – one keeping the spots occupied during the day, the other – holding them during the night. Well, it seems their mission is nearing its end, with about 8 hours left for them to wait.
Due to time zones, the very first Apple store, offering the iPhone 6, to open its doors in 8 am on the 19th of September will be the one in Sydney. This means that the lucky Alphatise contest winners will not only get the new Apple flagships for free – they may get the very first ones to ever be in the hands of customers worldwide.