Fleksy 2.0 adds personalization and gamification to your Android keyboard
4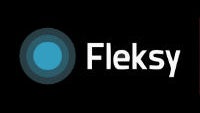 Fleksy is one of the newer additions to the increasingly crowded alternative keyboard market on Android, and it is quite a good option. Today,
Fleksy
received a major update, which brings the app to version 2.0. The update not only brings interesting new features, like gamification badges, but it brings a nice 50% offer for those who may want to buy the full version.
Fleksy is a keyboard for those who prefer touch typing. It offers gestures, but only to perform certain functions like cycling through suggestions, adding words to your dictionary, adding punctuation, and deleting words. There is no gesture typing option, unfortunately. But, the touch typing experience is quite good, and version 2.0 adds a nice feature that SwiftKey users have enjoyed: cloud synced personalization. The app can learn your typing habits from your personal dictionary, Gmail, Twitter, Facebook, and SMS, and sync everything through the cloud.
The new version also adds a gamification layer which offers you badges simply for using the keyboard. You'll get badges for adding various services to your personalization. But, you won't only get badges, the badges will also unlock new keyboard themes, or extend the free trial period that the app offers. And, if you want to purchase the full version, it is 50% off for the next 3 days, which means it will only cost you $1.99.
Fleksy - Happy Typing! from Naomi Ture on Vimeo.