Fleksy keyboard out of beta at Google Play Store
10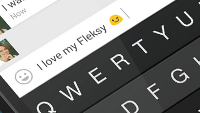 Back in August 2012, we told you about the Fleksy keyboard for iOS. Back then, we showed you a video revealing
how fast misspelled words are corrected using the app
. Now, the Fleksy keyboard is out of beta at the Google Play Store and you can get one month free. After the first 30 days, the third party virtual keyboard will cost you $3.99.
The keyboard was originally designed for those with vision problems, and was sold to Google as a proof-of-concept. After being available on iTunes, Fleksy was in beta for Android users over the last few months. Android users must be totin' a phone powered by Android 4.0 or higher in order to use Fleksy. If you have trouble typing on your Android phone, why not give this a try for the 30 days? It won't cost you a penny until the first month has expired. And who knows? You might find yourself actually enjoying typing on your phone for a change.
You can use the "mini" mode to make the portrait keyboard smaller, or try the "invisible" mode to type without any keys. To download Fleksy, click on the sourcelink below.
source:
Fleksy